The fact that you're not able to meet your clients in person need not stop you from providing the vital support they need. In fact, with the possible social isolation that Covid-19 is bringing, your services are more important than ever.
The good news is that there is an effective, affordable technology which provides continuity for them – a visualiser. This is essentially a high specification camera which you can point at your resources for your client to see in high quality on their screen. You can speak with them whilst doing so as normal. This allows you to create engaging content and deliver remote learning easily from home. See below as an example.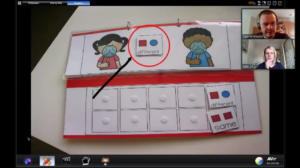 As the leading supplier of visualisers in the UK, we were approached by a Speech Language Therapist. After an excellent discussion, we realised a visualiser is something that will not only save you time on your teletherapy sessions, it will also allow you to provide the same service at home as if you were actually with your client using Zoom, Google Meet or an equivalent video chat platform.
Using a visualiser remotely works easily in two ways.
Switching between the visualiser and your laptop camera/webcam
By using a visualiser during a Zoom session we can easily switch between your laptop camera and the visualiser; this allows you to place any content from games to storyboards underneath for your client to remotely see at home, and a click of a button, switch to a face to face conversation.
As this image is live, we can make notes plus use audio to explain through the content. We also have a full view of the client's reaction at all times to monitor reactions and understanding. This is of course very important.
Using the visualiser software
The second way we can use a visualiser is with the powerful visualiser software it comes with.
If we share our screen, then open the visualiser software which is installed on your Windows PC or Mac, we get access to a range of tools to assist us. These include:
zooming in closer to see 3D objects or specific parts of pictures texts
annotating over the image with a pen, highlighter, shapes or text box to highlight key areas
a cover up / spotlight tool to give us a controlled focus on one area of our content
a split screen to compare before and after, correct and incorrect and so on
We can also take pictures of anything under the visualiser which will save automatically to your software. These can be exported as a PDF to send to your clients for progress updates.
The same can be done with the video recording option which includes audio to provide segments of sessions to keep, or to send on to show progress or even as an update for future sessions. These include use of any of the tools above such as highlighting, annotating and so on.
All provide your sessions with an innovative edge and in some ways, are actually more effective than being in the same room.
Most importantly though, it means you can continue to provide support to your clients and continue earning a salary during this lockdown.
—
During April, we have worked with nearly fifty SLTs who have found using a visualiser an excellent tool. The feedback has been fabulous and we'd love to have the opportunity to support more. This is why we have now negotiated a large discount with Aver, a global leader in visualisers, which we can pass on to members of this forum. There are two main options for you which we can explain in more detail during a chat; an entry level option or a higher specification model which improves the quality of your service.
We are also able to provide set up and training for all customers – remotely of course!
All members of this group are invited to a free, live webinar on Tuesday May 12th at 3pm .
We'll explain how it works, how it helps and what your options are to continue servicing your clients.
Register online at https://www.eventbrite.co.uk/e/use-simple-technology-to-support-speechlanguage-therapy-clients-from-home-tickets-104080114424 .
Or if you're like some advice in the meantime, please email our visualiser specialist Sam Wilkinson on s.wilkinson@elementaryuk.com .
We look forward to working with you – stay safe.